Good practices in separate collection, sorting and recycling of steel for packaging
Good practices in separate collection, sorting and recycling of steel for packaging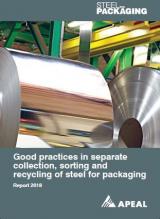 With an average of 79.5% recycled across Europe in 2016, steel for packaging is already the most recycled packaging material in Europe.
This report compiles examples of good practices from countries across the EU showcasing the varied projects, systems and processes by which steel for packaging is recycled, bringing significant reduction in emissions, resource and energy use.
Steel, a permanent material that can be infinitely recycled to make high quality products, can be easily sorted from the waste stream owing to its magnetic properties which make it the most economical packaging material to collect, sort and recycle over and over again.
Good practices in separate collection, sorting and recycling of steel for packaging contribute to improving its recycling rate, but can also serve as a guide for any stakeholder interested in improving these essential steps in a circular perspective.