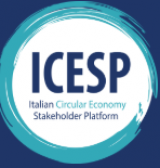 The Italian Circular Economy Stakeholder Platform (ICESP) is the mirror initiative launched at national level by the National Agency for New Technologies, Energy and Sustainable Economic Development (ENEA) - the only Italian member of the ECESP's Coordination Group.
The ICESP is a "network of networks" bringing together circular economy initiatives, experiences, critical issues and perspectives from Italy which can be represented at European level. Its objective is to promote the Italian way for circular economy at national and international level, through the involvement of Italian stakeholders.
The ICESP acts through six working groups: 1) Research and eco-innovation, 2) Policy and governance, 3) Measuring the circular economy, 4) Sustainable and circular design, production, distribution and consumption, 5) Cities and territory, 6) Good practices.