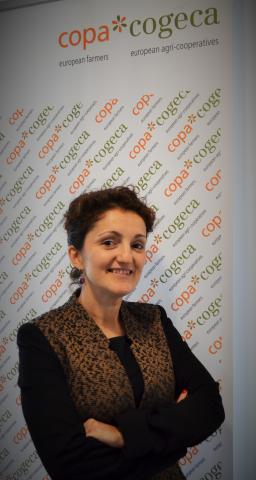 Title
Director of General Affairs
About this contact
Oana Neagu is Director of the General Affairs team at Copa Cogeca. The team covers topics related to the circular and bio-economy, the environment and climate change, research and innovation, food waste, etc. Oana is an agricultural engineer and has a Master's degree in business administration. She previously worked at the European Commission's Directorate-General for Agriculture as a policy officer, in charge of managing market measures. Prior to joining the Commission in 2006, she was the adviser on European integration at the Ministry of Agriculture in Romania, and was involved in preparing Romania's accession to the European Union.
She is a member of the management committee of the multi-stakeholder platform on the implementation of the Sustainable Development Goals in the EU and actively involved in various expert groups on the bioeconomy, forestry and rural development.
Copa and Cogeca are the united voice of farmers and agri-cooperatives in the EU. Together, they ensure that EU agriculture is sustainable, innovative and competitive, guaranteeing food security for half a billion people throughout Europe. Copa represents over 23 million farmers and their families whilst Cogeca represents the interests of 22 000 agricultural cooperatives. They have 66 member organisations from the EU Member States. Copa and Cogeca are among the founding members of the European Bioeconomy Alliance.