PLATIRUS project - meeting the PGM (Platinum Group Metals) supply gap by recovering materials from secondary resources
Description
The main aim of PLATIRUS is to help bridge the growing PGM supply gap in Europe. It seeks to do so by using autocatalysts, electronic waste and mining waste to develop novel or improved secondary materials.
Specifically, the project seeks to upscale - to industrially relevant levels - a novel cost-efficient and miniaturised PGMs recovery and raw material production process; to select the best recovery technologies and develop a recovery process and Blueprint Process Design for the final upscaling stage before market introduction, and; to prepare and promote market introduction.
Recycling of critical raw materials such as PGMs from waste is recognised by the European Innovation Partnership on raw materials as a key to mitigating supply risk. It is therefore vital for Europe's competitiveness and resource efficiency to secure the supply of PGM materials and reduce dependency on global supply chains.
The PLATIRUS process, made possible through the joint efforts of the EU's major research centres, will represent a step forward in terms of sustainability and environmental footprint, while offering much more flexibility and selectivity.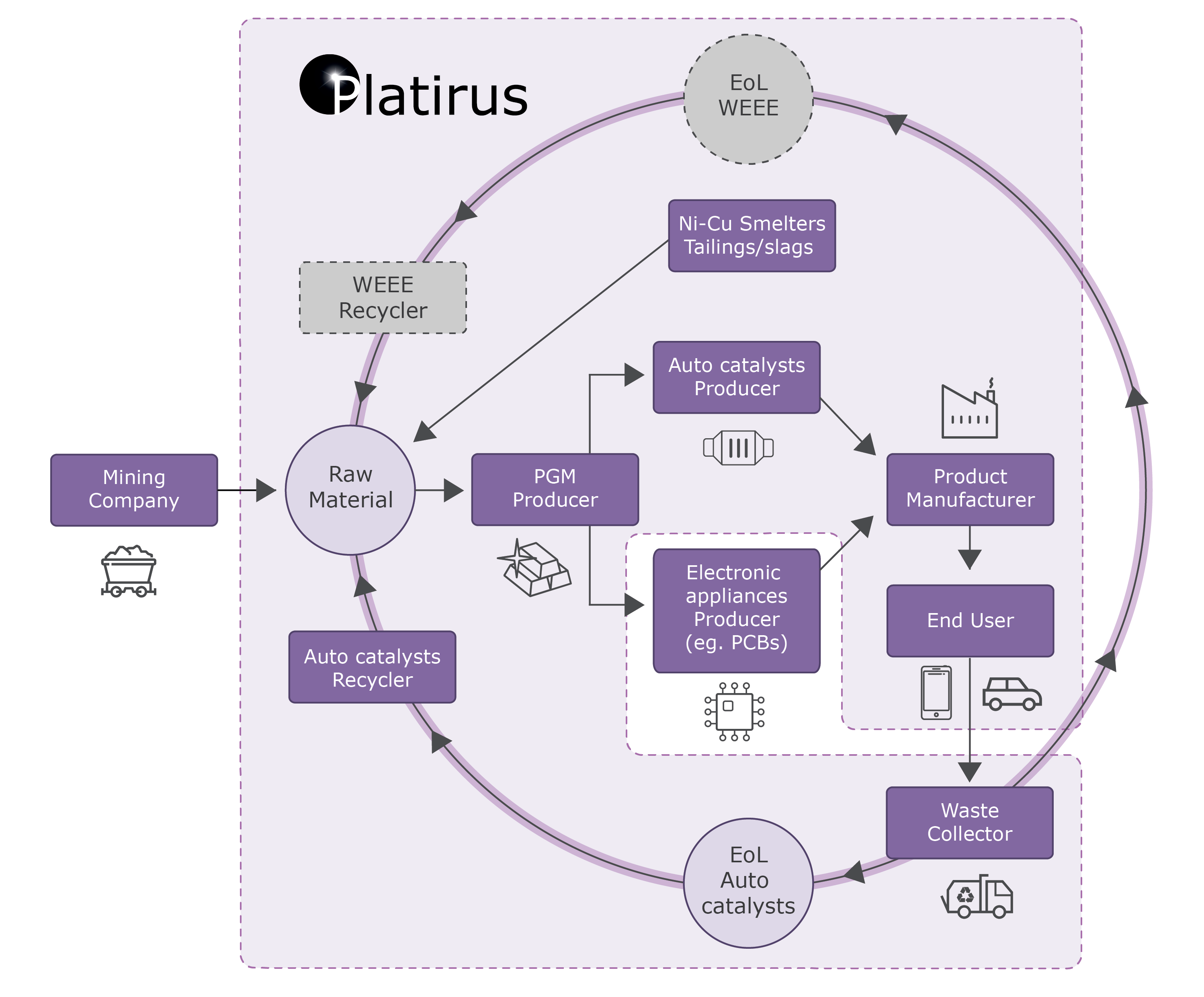 Main results
Outcome to date and intended impact
The PLATIRUS project consists of 3 phases (R&I, selection and lab validation, and validation in industrial environment and preparation of market deployment). In the first 18 months of the project, work has been conducted on phase 1 and part of phase 2 of the project.

The PLATIRUS project's ultimate aim is to fill the PGM supply-demand gap, currently estimated to be around 40 tonnes/year for an equivalent current value of EUR 1.2bn/year. 

It also seeks to secure the supply of PGMs and lessen dependency on global supply chains, reduce energy costs and environmental impact, provide solutions that require lower capital investments than centralised refineries and to maximise exploitation of local waste sources.