Delivering a circular economy within the planet's boundaries: An analysis of the new EU Circular Economy Action Plan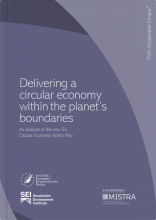 This analysis by IEEP and SEI assesses to what extent the actions included in the new Circular Economy Action Plan published by the European Commission on 11 March 2020 may contribute to a more circular European economy within the boundaries of the planet.
The authors conclude that the action plan is a promising continuation of existing efforts, but ask for more concrete measures to address unsustainable resource consumption.
The authors make five recommendations to EU policymakers in this regard and emphasise the importance of EU Member States and the private sector showing leadership and willingness to innovate.